Tech News March 2005
Page 1
13 PSU Roundup
Overclockers Online :: Thursday, March 31, 2005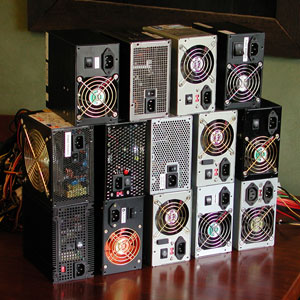 We used Prime95 as the final, most sensitive test. This is actually part of a distributed computing project to search for very large prime numbers. However, it's grown to be widely regarded as one of the most sensitive stability-testing tools available. In recognition of this usage, the authors have included a "Torture Test" mode which runs intensive numerical calculations and compares the calculated result with known correct results. If a difference is found, the program aborts and informs you of the error.
Flexiglow Keyboard & Gaming Mouse @ Viperlair
ViperLair :: Thursday, March 31, 2005
"The Flexiglow xRaider Gaming Mouse and xRaider Keyboard are both good components although the obvious star of the show here is the Gaming Mouse. In the looks department it is pretty good, although I do think that perhaps the rear cycling LED should have a switch of some kind to dictate a singular colour or the cycling of the colour; it can get a bit tiresome/distracting to the eyes now and then. That said, there is a good chance you will have the palm of your hand covering it anyway."
Editorial: The Other DTV
Designtechnica :: Thursday, March 31, 2005
"Maybe you already know this—but a lot of folks getting their first exposure to new video display technologies at Best Buy don't—digital television and HDTV are not the same thing. The great unwashed who make that assumption probably also see DTV as some kind of technocratic plot to part them from their hard-earned dollars for something only golden-eyed elitists could appreciate. (Am I being needlessly polemical? Feel free to post and skewer me back.)
This misassumption makes the subject of SDTV, or standard-definition television, all the harder to approach. After all, as a home theater technology critic, I spend a large proportion of my time trying to convince the public that HDTV, or high-definition television, is worth the investment. But I also have a conflicting urge to defend the underdog. OK, so SDTV doesn't provide as much resolution (defined as sharpness and detail) as HDTV. But it's still a form of DTV, and therefore not to be underestimated.
News Flash – Klassy Kloss Radio : The Tivoli Model One Table Radio
Futurelooks :: Thursday, March 31, 2005
"It doesn't get more analog than this! This blast from the past takes old world craftmanship with some new world technologies to really hot rod the traditional radio. A perfect addition to any overly "wired" home."
ABS Ultimate E2 Media Center PC Preview @ CoolTechZone
CoolTechZone :: Thursday, March 31, 2005
"ABS Computer Technologies, a popular custom PC builder, has recently announced its Ultimate E2 Media Center PC that is solely targeted at those with a desire to have a powerful multimedia PC. This particular multimedia system supports an Intel Pentium 4 microprocessor based on the latest Socket 775 at 3.0GHz clock speed. This is a default processor of choice, but for a higher price it could be upgraded to a faster one."
Soltek SL-K890Pro-939 Motherboard Review
PCStats :: Thursday, March 31, 2005
"With fiscal matters in mind, PCStats will be testing out a mainstream Athlon64 (socket 939) motherboard based on the VIA K8T890 chipset, with support for just one PCI Express x16 videocard. If that sounds enticing, bear in mind that the Soltek SL-K890Pro-939 motherboard retails for just $157 CDN ($127 US). That's about $75-100 less than the average SLI board, but still includes a lot of PCI Express goodness! The SL-K890Pro-939 motherboard supports Socket 939 AMD Athlon64/FX processors, and can be packed with up to 4GB of PC3200 DDR RAM. The board supports a single PCI Express x16 videocard as well as three PCI Express x1 devices. Lastly there are two 32-bit PCI slots for your future upgrading needs."
HEXUS.review – GeCube's Radeon X850 XT Uniwise
Hexus :: Thursday, March 31, 2005
For the performance, it's hard to argue with the £370 asking price, in the face of what you get for the same money invested in NVIDIA, right now. It's close to X850 XT PE money, but then again, it is an XT PE in all but name. That it ships with an inspired cooler, one that brings back the essence of the initial X800 XT PE design, is all the better. I also get the dual DVI ports and VIVO ability I crave, for good measure.
Review: Altec Lansing InMotion IM3 Portable Audio @ Tech-Mods.net
Tech-Mods.net :: Thursday, March 31, 2005
"Personal music players have been around for some time now; we have seen many different sizes and styles over the years. From the once great cassette tape, right down to the MP3 players we are used to today. As portable and personal these units have been designed, there are times we would like to share the music we carry with us. Today we will be looking at a portable audio station; designed mainly for the well known I-Pod but yet flexible to be used with near any other portable device you may have. Let's see if this paperback sized unit can fill a small library when you're in the sharing mood? "
PimpRig Review // Sunbeam Chameleon
PimpRig :: Thursday, March 31, 2005
"Now I am sure you noticed the 3 separate knobs on the bay controller, under which are labeled R, G, and B. Can you guess what this means boys and girls? (Sorry, my nephew has been watching old tapes of Mr. Rogers this weekend and it's kinda wearing off on me.) Yep, you guessed right…. these knobs allow you to change value settings for each color of the visible spectrum."
Corsair COOL water cooling kit review @ Madshrimps
Madshrimps :: Thursday, March 31, 2005
"Corsair first dipped their toes into the reflective pools of water cooling back in 2003. Their product, aptly named Hydrocool was a self-contained "black box" which housed a pump, radiator/fan, reservoir, and electronics, including LED temp display. Corsair has recently returned to the CADCAM drawing board. This time they´ve eschewed the external box design, opting instead for an integrated system. Their new system given the moniker COOL is a partially pre-assembled affair and should provide the entry-level user, as well as those more familiar with H20 systems, a cooling alternative superior to air."
Workstation Graphics Card Comparison Guide Rev 3.1 Posted!
Tech ARP :: Thursday, March 31, 2005
"These days, there are so many
workstation
graphics card models that it has become quite impossible to keep up with the different configurations. Therefore, we decided to compile this comprehensive guide to over 60 workstation graphics cards.
We hope this comparison will provide an easy reference for those who are interested in comparing the specifications of the various workstation graphics cards in the market as well as those already obsolescent or obsolete. We will keep this guide updated regularly so do check back for the latest updates!
HEXUS.news – MSN P4N Diamond – Digitally Switched SLI
Hexus :: Thursday, March 31, 2005
Since SLI's rebirth a few months ago, nForce 4 SLI chipset users have been burdened with the task of inverting a daughterboard or setting a heap of jumpers to reconfigure the lane setup of their PEG slots. However, that is now changing. Motherboard manufacturers are starting to create digital switches for SLI, making life that little bit easier for the enthusiast. Here we have the first box shot of MSI's P4N Diamond motherboard, which is an nForce 4 for Intel based board, in fact the first P4 SLI board with a digital SLI switch.
Belkin Dual-Band Wireless A+G Networking @ TheTechLounge
The Tech Lounge :: Thursday, March 31, 2005
"The alphabet soup of wireless has not gotten any less complicated since the first 802.11b product shipped so many years ago. Gone are the 1-2 Mbps speeds (if you can call them that) of the past. Now with the 802.11g standard, sharing files and just abusing the network is far easier. This expansion of wireless has also yielded consequences. The unlicensed 2.4 GHz spectrum has become increasingly overcrowded. Everything from wireless networks to cordless phones sits in this range. Even the lowly microwave can wreak havoc on some poor unsuspecting wireless signal.
Does this mean all is lost? That we will be subjected to just deal with it? No! Actually, by going back a few years to the 802.11a standard, we can once again bring harmony to the wireless spectrum. The 802.11a standard operates in the 5GHz range which does not see the interference found at 2.4GHz. What 802.11a lacks is coverage area. Belkin has decided to combine the 802.11g standard with that of 802.11a. What they claim this does is enable the user to take advantage of the positive characteristics of both channels while minimizing their downsides. Today I have in front of me Belkin's Wireless A+G Router, PCI card, and PCMCIA notebook adapter. I shall do my best to see if this converged product is a worthy competitor to the traditional G setup, or just a sloppy patch job."
Kingwin Mini Shuttle HDD Enclosure @ Systemcooling
SystemCooling :: Thursday, March 31, 2005
With all the upgrading I've been doing lately, I have collected several older IDE hard drives that haven't been used for a while. So for a solution to the problem and to put the drives back into service, in comes the external hard drive enclosure. Not only do external enclosures give you more storage space, they also make it extremely easy to transport large amounts of date to use on other systems as the need arises. For me, they are used when I get called to a friend or family member's house to repair their computer due to a spy ware of virus problem. Anyway, enough of the small talk – let's take a look at the Kingwin 3.5″ EIDE HDD USB enclosure.
Dual Layer DVD Shootout – ASUS vs. Gigabyte 16x Recorders
TweakTown :: Thursday, March 31, 2005
"Today we step aside from the usual motherboard or processor review and take a look at two of the latest DVD burners to emerge from two large Taiwanese companies, ASUS and Gigabyte. Both drives support DVD burning at 16x and both support Dual Layer burning. If you're on the market for a new DVD burner, one of these might be what you're looking for."
Patriot PDC1G3200+XBLK 1GB DC Kit @ InsaneTek
InsaneTek :: Thursday, March 31, 2005
"As the age of Samsung TCCD memory chips come close to an end, companies are using what's left in their stock to produce low latency DDR ram. PDP Systems is one of the lesser known memory companies that followed the trend of TCCD. It's a surprise to hear that their company has been around since 1985. Although in existence for such a long time, they have provided memory for a variety of components, ranging from Flash memory devices to ATI graphics cards. Only recently has PDP Systems decided to join the highly competitive memory market with the name Patriot."