Office Shredding: You Can Only Trust Yourself
This is a Sponsored post written by me on behalf of Fellowes, Inc. for SocialSpark. All opinions are 100% mine.
If you're a working person today, you've probably noticed that your office has one of those "Secure Shredding" kiosks. These types of off-site services have been cropping up over the past ten years, as confidential information and identity theft has become lucrative.
Even if you aren't intentionally robbing customers or breaking government trust laws, there's lots of stuff that would be valuable in the wrong hands and could damage you or your company. And how much do you think the Shredding Service Companies pay someone who picks up the mechanically-masticated remains of broken dreams? Heck, even Cracked.com featured a few posts about embarrassing leaked company memos.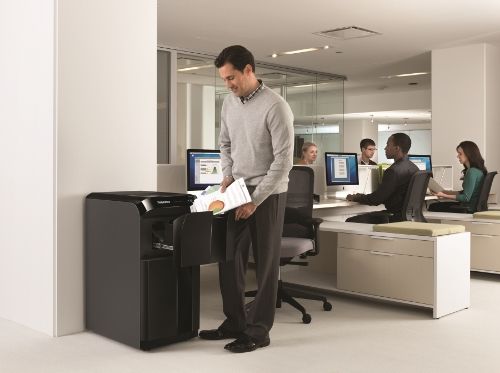 I used to work at a software company whose sole business was mitigating digital information leakage. We had to sample data and even ask the companies to provide us with samples of the type of information they want to keep hidden. I'm pretty sure there would have been more corporate scandals broadcast on CNN if any of the stuff we saw got out.
If you want something done right…
The takeaway here is that the only way to be sure sensitive information is truly destroyed is to handle it yourself. But there's usually a "pain point" about doing things yourself. If you've decided on an office shredder, then you have to "prepare" the media by removing all the paper clips, staples, remove them from folders, report covers, bundle them into munch-able chunks and then babysit the shredder as you (or your intern) feeds things into the shredder all day. And depending on the volume of scandalous papers your shredder may overheat if it's underpowered.
If you even think that you'll do more than the casual destruction round, then you might consider an industrial-level shredder that can work all day without a problem. If you're already in this category, then why not get all the bells and whistles to reduce your "pain point" down to zero? It might even be FUN destroying this stuff… you can make a game of it (as we indulge in here).
"Bells and whistles", not "whistle blower"
Shredders have bells and whistles? I'm glad you asked. Listed below are some features that will make life easier for your evil destructive twin.
List O'Criteria for Information Destruction Devices
Timer to schedule queued up shredding jobs
Powerful motor that won't overheat
Can handle thick media (crumpled paper, DVDs, paper clips, staples, manila envelopes)
Rotating paddle and angled feed deck for consistent feed
Lockable drawer to prevent others from "rescuing" information, even during a shred cycle or unplugged
Very small cross-cut pieces to prevent some obsessive-compulsive kid with a roll of Scotch tape from re-constructing the puzzle
Small army of incendiary elves to transform your new kindle into vapor
Ok, so that last one might be a little hard to find in today's office climate, but be sure to look for it if your office is transferred to Mordor or Gondor.
Which brand to choose?
If you're into photography, you know the difference between Nikon and Canon products. Dentists know the difference between Crest and Colgate (hint: there is none). Nobody is into office shredding, so how do you know one brand name from another?
You've probably heard of Fellowes and have probably seen their products as you troll through your local office-supply store. They make the Fellowes AutoMax Shredder, which meets all of the criteria in the List O'Criteria for Information Destruction Devices. You can even buy one online and have it delivered by a pack of delivery trolls.*
*availability of un-packing trolls limited to Mordor addresses